Playa del Carmen offers several restaurants of all kinds with surprising gastronomy. You have many choices on the famous 5th avenue as well as everywhere in the region.
You can eat an expensive gourmet meal down to an excellent taco for only $ 1 on street corners everywhere. There is really something for all tastes and budgets! Contact me for more info.
Here are my favorite places in order of; Breakfasts, Mexicans, Italian, Steak House, Seafood, and more ..
Chez Céline
If you are in Playa del Carmen and looking for a place to have lunch or have a good coffee with fresh pastries, be sure to come to Chez Céline. It is one of the restaurants that brings together both tourists and locals. It is one of the best recommendations in Playa del Carmen.
Chez Céline is located on 5th Avenue between calle 32 and 34.
Cafe Chou Chou
Cafe Chou chou is a family business, parents, brothers and sisters and friends inspired by their astrology, nature and culture, they decided to create a place where energies flow in favor of our environment.
This place is not only for coffee but also good food, as they have an organic and environmental aspect.
That's why they decided to create a recycling point, which can involve the whole community of Playa del Carmen, thus helping the environment.
Cafe Chou Chou is located on 20th Avenue between calle 24 and 22.
Los Hijos de la Tosdada
Los Hijos de la Tostada is a restaurant that offers seafood tostadas in a creative and delicious way that you should definitely try. Other seafood restaurants should review their menu now with these tostadas hijos.
Ideal for dinner during your stay in Playa del Carmen. The tasty meal will leave you satisfied and the combinations of sauces and seafood are very good. The guys who work there are very friendly and will take good care of you. Nice atmosphere and great food !!
Los Hijos de la Toastada is located on 5th Avenue at the corner of calle 38.
Los Hijos del Mar are located on 30th Avenue between calle 24 and 26.
El Pirata
El Pirata is a long-time fish and seafood restaurant and a favorite with locals. It is always busy, music and trays of fish and ceviche everywhere.
Indoors or outdoors, you will notice that it is a very casual place with plastic tables and chairs and beer is the drink of choice. A place for seafood lovers. Sometimes there is live music with traveling musicians otherwise the TV is on with music videos.
The seafood is certainly fresh. The fish is fresh caught and fresh ceviches made. This is what has sustained this restaurant over the years as well as the consistency of prices at fair value.
El Pirata is on calle 40, between 5th and 10th Avenue.
Aldea Corazon
This restaurant is a good place for brunch. It is open all day and very romantic in the evening.
The atmosphere is special, designed with the feeling of the outdoors because it is located in an open dry cenote with lots of vegetation. Their musical selection also adds to the feeling of life in Mexico.
The front is rather simple and hides a spacious outdoor area at the back of the restaurant, perfect for a little shade after walking on 5th Avenue or a more romantic and quieter place for a private dinner. They've added some pretty fountains and the trees bring green energy to your dining experience.
Aldea Corazon is located on 5th Avenue between Calle 16 and 14.
Romeo
Romeo is the best quality / price Italian restaurant in Playa del Carmen, I love this restaurant! In Playa del Carmen you can find great restaurants outside 5th Avenue and this place is a real hidden gem. You must book because it is small so always full. And you absolutely must try the salmon ravioli .. A real delight !!
Romeo is located on calle 4 between 10th and 15th Avenue.
Salento
Salento is also an excellent Italian restaurant, a little difficult to find but it is definitely worth it!
Salento is located on the CTM (calle 46) opposite the small police station between calle Cozumel and Flamingo.
YUM YUM
Yum Yum is a new Thai / Idien restaurant which is simply excellent!
Located on the corner of 10th Avenue and calle 6.
Ilios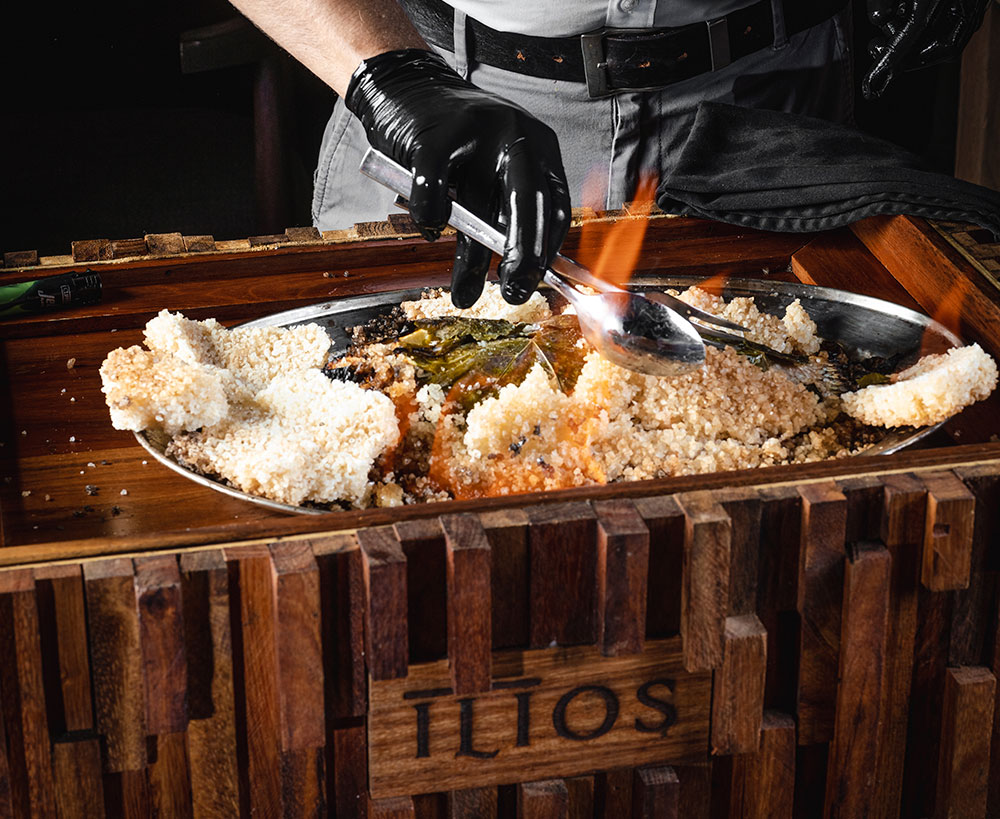 Corner 5e Avenue and calle 12.
SUSHI CLUB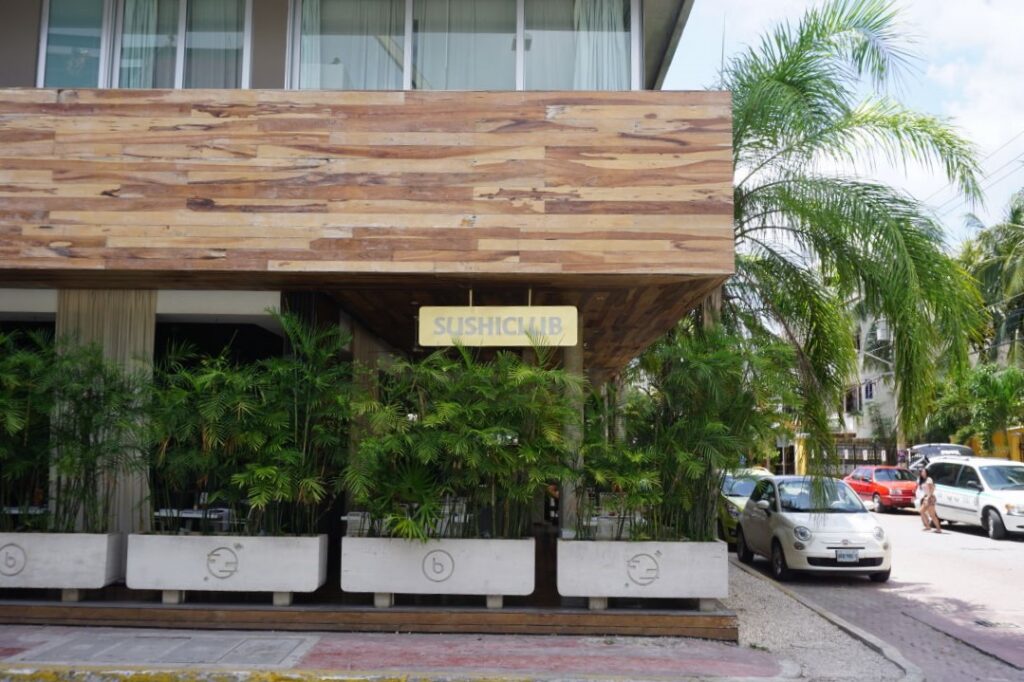 Corner 10e Avenue and calle 26.
Sushi Roll
Sushi Roll is located on 5e avenue between calle 12 et 14.
TAHINI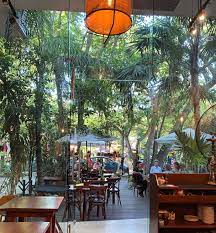 On calle 38 between 5e and 1e Avenue.
Harry's
Harry's steak house is now open in downtown Playa del Carmen. You want an excellent steak in a chic atmosphere with air conditioning, this is your place.
Harry's is located on 5th Avenue between calle 14 and 12, on the 2nd floor of the new calle corazon.
Porfirios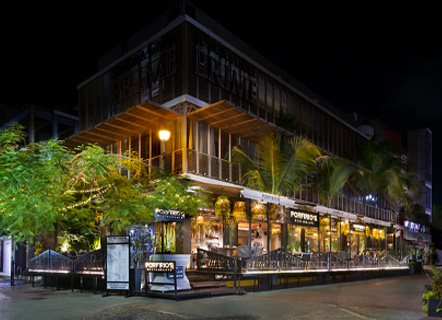 Porfirios is the perfect place to get to know the Playa de Carmen centro. With a chic menu, this restaurant always has a festive atmosphere with mariachis and fireworks !!
Porfirios is located on 5th Avenue corner of calle 12.
Sonora Grill
Sonora grill is an excellent steak house in Playa del Carmen. They offer quality meat and impeccable service. With chic decor, Sonora is the perfect place for steak lovers.
Sur is located on 5th Avenue at the corner of calle 12 also on 5th corner of calle 30.
Bovino's
Bovino's is a steak house in Playa del Carmen. Their meal service style is different. When your waiter arrives, he will explain the concept of the restaurant to you. There is a round card in your place, one side is green and the other is red. When you are ready to receive meat, just turn the card on the green side. Often they come so quickly that you have to turn it over in order to have a chance to eat what's on your plate. At any time you can go to the excellent buffet which is actually better than meat! This is the real surprise. Here are some of the things you'll find at this buffet: salads, varieties of carpaccio, cold and hot seafood, sushi and much more.
Bovino is opposite Coco Bongo at the corner of calle 12 and 10th Avenue. They offer a valet service.
El Diez
El Diez is an Argentinian restaurant. It is interesting with its menu and its typical sauces. There is a lovely large outdoor terrace directly on 5th Avenue, El Diez is a great choice for a good, relaxed dinner.
El Diez is located on 5th Avenue between calle 28 and 30.
Cash
Catch the main restaurant on the roof of the luxurious Thompson hotel, it is a modern fusion seafood restaurant with also classics. Catch is a brand of trendy restaurants with addresses in New York, Dubai, Playa del Carmen and soon Los Angeles. The restaurant is casual chic. All the food is very well prepared and original. You can just go there for cocktails by the pool. They offer quality and original cocktails. Just the view is worth it too.
Catch is located on the roof of the Thompson on calle 12 between 5th and 10th avenue.
Plank
Plank is a top quality restaurant with impeccable service. It's a bit pricey, but it's a very good restaurant and most people like to enjoy the experience with a nice atmosphere. You can sit indoors where it is a little cooler with fans or on the covered terrace at the front.
Plank is located on calle 16 between 1st and 5th avenue.
Patio 8
Patio 8 is a new place with a very successful, modern and chic decor. This restaurant can welcome you directly on 5th Avenue with its remarkable restaurant, its nightclub on the 2nd floor and a beautiful roof terrace.
Patio 8 is located at the corner of 5th Avenue and calle 8.
Alux
Alux is a unique restaurant in Playa del Carmen, it is located in a cave in the ground, literally! This restaurant is truly the epitome of Playa del Carmen located in a cenote. It serves fusion cuisine of local taste and enhances the natural landscape of the region in a way that no other restaurant does. It should be on every tourist list for a unique experience during your trip to Playa del Carmen.
The restaurant and lounge are open just in the evening. Most people like to come for a cocktail in the lounge and walk through the cave. It is open to all. There is even a Mayan ceremony hall where you can choose for a wedding or renewed vows. A special and unforgettable evening in Playa del Carmen.
Alux is located on avenue Juarez between 65th and 70th avenue, west of route 307 (highway). To get there you have to drive or take a taxi.
La Cantina No 20
If you are looking for a place to eat Mexican in a chic atmosphere, La Cantina No 20 offers this!
Located on 5th Avenue between calle 12 and 14 on the 2nd floor of the new calle corazon.
Cerveceria Chapultepec
Simple concept, all at 20 pesos (+/- $ 1). Beers, cocktails, food, .. Everything is only 20 pesos! Cerveceria Chapultepec always have a nice atmosphere. They have 2 franchises in Playa ..
-on 5th Avenue at the corner of calle 8.
-on 1st Avenue at the corner of calle 20.
Milos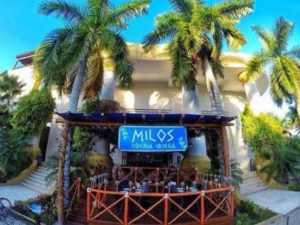 Milos is a Greek restaurant in Playa del Carmen. It is very good and located very close to the sea.
Milos is located calle 38 and just a little before the sea on the left.
Samurai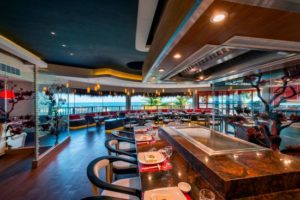 Samourai is the only Japanese restaurant to offer the show on the plate in front of you (teppanyaki). The cooks who perform are very talented and very friendly! Located in the Reef Coco beach hotel in Playa del Carmen, you must pay in advance at reception but the price includes the 3-course meal and unlimited alcohol.
Samourai is located at the corner of calle 48 and Flamingo.
Bio Organico and Bio Naturel
Bio Organico and Bio Naturel are good vegan and vegetarian restaurants, offering lunch and dinner. Their meals are composed of vegan, vegetarian, organic food and natural products. They also have a nice little market where you can buy your natural products.
Bio organico is located on calle 12 between 25th and 20th avenue.
Bio Naturel is located on 10th avenue between constituyentes and calle 16.
Brocherie
This small restaurant, whose owners are French, is very welcoming in addition to offering an absolutely delicious chicken !!
You can discover the flavors of France with the "house specialty", delicious roast chicken! A chicken marinated in pineapple for many hours and then slowly roasted with Provencal herbs. Served with spicy salsa, a fusion of Mexican spices and the delicacy of France!
A place to try during your vacation.
La Brocherie is located on 15th Avenue between calle 4 and 6.
Salade
Saladé is a salad restaurant in Playa del Carmen that is there to serve healthy food. Their main food is good on salads, and which is actually more difficult to find in Playa than you might think, so it's a great find. They have three sizes of salads that you can order with multiple choices of protein, vegetables, and other ingredients. You make your own salad meal. The restaurant is very clean with friendly service. In addition to salads, they also have smoothies, bagels and paninis. It's a good place to get something light and perfect to bring to the beach or a picnic. They offer good service to bring.
Saladé is located on calle 10 at the corner of 15th avenida.
Les 3 Amigos
Les 3 Amigos is a Quebec sports restaurant-bar. Founded by a Quebecer, the Les 3 Amigos has several televisions and a giant screen to broadcast mainly Montreal Canadiens hockey games in French as well as other sporting events. They serve typical Quebec food such as the famous Quebec poutine, nachos, hamburger steak, club sandwich, etc. With a dynamic and friendly atmosphere, the Les 3 Amigos is a must for Quebecers visiting Playa del Carmen.
Les 3 Amigos is located on calle 4 between 20th and 15th avenue.
And much more…