1- Take a walk on the famous 5th Avenue in Playa del Carmen. It is a large pedestrian street that runs along the ocean and has hundreds of restaurants, shops, street entertainers and much more! There are about 20 blocks long that you can walk. This pedestrian area is the preferred activity for most tourists. It is very active and even more lively in the evening.
---
2- Go to the beaches. After all, that's why the Rivera Maya is famous. We have great beaches all around. In Playa del Carmen there are different beaches and they appeal to different people depending on whether you want a beach club or a more private beach. For the other options you can also go to the beach along the coast and there are also the Xpu-Ha or Maroma beaches which are very beautiful.
---
3- Visit a cenote. A cenote is something that is unique to our region. There are over 10,000 cenotes in the state of Quintana Roo. These are natural caves carved out of limestone and this has created freshwater pools with crystal clear water. Some of them are open and some are in caves. They are all different. The closest to Playa del Carmen are around 15 minutes by car.
---
4- Visit an ancient Mayan ruin. There are several good places to choose from such as the famous Chichen Itza, Coba and Tulum. There are also smaller and lesser known ones like Chacchoben and Ek Balam.
---
5- Visit one of the large eco parks nearby. There are three large parks all owned by the same company, Xplor, Xcaret, Xenses and Xel-ha. Everyone is different and has something to offer for everyone. It could be a difficult choice to choose between them because they are all good. If you're here for a week, you might have the chance to go to just one or maybe two.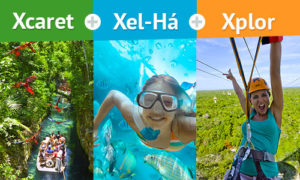 ---
6- Snorkel or scuba dive on the largest coral reef barrier on the American continent and the 2nd in the world.
---
7- Get out of the city and discover the culture of a Mayan village.
---
8- Enjoy at least one night in downtown Playa del Carmen. You can have dinner at one of the many great international or Mexican restaurants in Playa del Carmen, then have a drink or go to a club. With the number of people who are in Playa del Carmen, you will find a wide choice of places. If you want the night to go on and do some clubbing, go to calle 12 between the beach and 10th Avenue and you will have many options for dancing all night.
---
9-Relax with a massage therapy session on the beach. For only $ 20 you can get a good relaxing 1 hour massage while listening to the sounds of the ocean, what better way to end your vacation !!
---
For more info you can contact me, it will be my pleasure to help you!
playadreamrentals@gmail.com
Elie